Guitar Lessons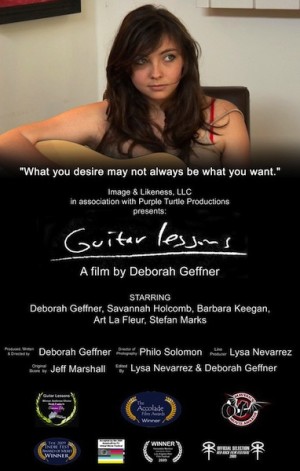 Guitar Lessonsis an award-winning, 34-minute short film directed and written by, and starring Deborah Geffner. Guitar Lessons received the Gold Top Prize at the Cinema City International Film Festival in 2009.
Synopsis: A married woman, Claire fantasizes about an affair with her daughter's guitar teacher, only to learn that her desires lead to a tragic loss.
Cast List (in alphabetical order): Deborah Geffner, Savannah Holcomb, Barbara Keegan, Art La Fleur, Stefan Marks
Guitar Lessons features an original score by Jeff Marshall. Click here to see paintings by Anna Forward that are featured in Guitar Lessons.
Guitar Lessons screened at the following festivals around the nation:
Cinema City International Film Festival
Maverick Movie Awards
Accolade Competition
The IndieFest
New Filmmakers
Red Rock Film Festival
Independent Short Film Music and Art Festival
Big Bear Lake International Film Festival
Queens International Film Festival
LA Reel Film Festival
Riverside International Film Festival
SoCal Film Market
GUITAR LESSONS TRAILER