A Seed Sprouts in the Fringe Forest
So there I was, minding my own business — who am I kidding, I haven't minded my own business since I had children years ago and it was suddenly obligatory to mind other people's business – anyway, there I was.
And my BFF Bobbie, with whom I share custody of a purple turtle named Smitty (ask her about it), sent me this four-character comedy that Jon Courie had written just for her. Sure enough, it sounded exactly like Bobbie talking, and had a great, funny, dark story (sitcom meets Sam Shepard meets Arsenic, hold the Lace), and what a shame it would never get produced.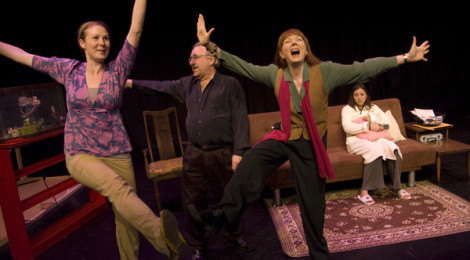 Cut to half a year later. (This is a technique I learned from editing my movies with my daughter, who says that every film has a soft underbelly, and it's the job of the editor to find that soft underbelly and slice it out with a carving knife. Okay, we're cutting…). So, that same daughter said, "You should produce it for the Hollywood Fringe Festival." I've never produced a play, but all at once, this thing that had seemed so impossible — find a theater, rent it, pick a performance schedule, grab some publicity, get an audience, put on a show — was achievable, just by registering on the Fringe website and saying I was going to do it.
I grew up (professionally speaking) in New York, and I think of it as a creative rainforest. All these projects are twining together, dropping seeds and fertilizing each other, and being all symbiotic, and straining to shoot up above the jungle canopy where the tallest and strongest and best will be seen and win Tonys. But in the meantime, a lot of creativity goes on down below — in more ways than one.
Well, LA is more of a desert. There's a whole lot of stuff happening here, but it's spread out all over the place where you can't see it. And it takes a whole lot of effort to fertilize and irrigate your little piece of land where you want your project to grow. Fertilizer costs a lot of money. Well, the LA Fringe Festival has created this mini-jungle, this little steaming, tropical tangle of creativity, where a whole lot of stuff can suddenly get done. And does. Cheaply. Quickly. Instead of no, everybody says yes to things. Theater owners are offering their spaces to you at a Fringe discount. Critics and audiences are pre-buzzed. Ad opportunities open up. Kind strangers give you tips about producing a show successfully. There's a website. People buy you drinks.
So we had a reading at my house. It was effortless to cast it. Bobbie (Barbara Keegan) was a given, an Emmy-winning redhead with an Irish/Jewish/Southern background and an ability to mimic anyone from Danny Kaye to Pee-wee Herman. For the daughter, there was a quality of honesty in my own daughter, Jesse Holcomb (remember the one who liked to eviscerate my movies?) which lent itself to the role.
We had two actors for the other parts who got busy with projects this summer, and we ended up instead with Barry Gordon — the former Tony nominee, former Teenage Mutant Ninja Turtle (Donatello), former SAG president who plays a mean guitar, and Diana Wright, who is surely one of the busiest and funniest improv actor/writer/director/ producers in LA.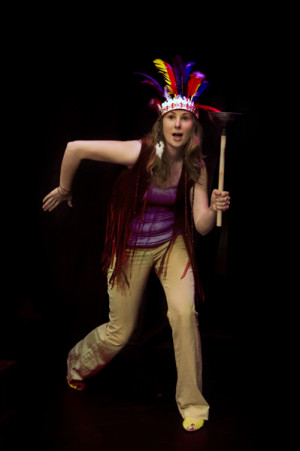 But beyond their talent, the great thing about working with these people is that they're all grownups. Most of them have been producers, directors or writers, which gives them a sense of the whole picture and how they fit into it, rather than just what's upsetting them at the moment. Each one is a problem solver, the person who makes things work in any situation. They clean up after themselves, don't whine, ask questions at the right time, learn their lines, remember their blocking, bring their props, laugh at my jokes. Compassionate, sensitive, all delicate flowers to some degree, but they pick themselves up and make it happen. Whew, enough with the love letter.
I'm crazy about directing. I always said what I really wanted to do was act — I do like being the one whom people are looking at. But there are colors I can't achieve, and now I have these other actors to conjure them for me — like painting with people — "you go over there and be my purple." I get to make things happen the way they should. "Talk over each other, like you do in life. The audience doesn't need to hear all those words. Have your thought while the other person is speaking. I'm ahead of you already. Make us hurry to keep up. Now you can pause. You've earned it. And for goodness sake, if something falls off the couch, pick it up." And I get to treat actors the way I've always wanted to be treated, listening to all of their ideas, letting them play, laughing till we all fall down. Well, I guess I'm the one who mostly falls down.
Then you get a day like yesterday. Tech rehearsal at the Open Fist Theatre at 2 pm. Beautifully scheduled. By lucky chance we were doing a Fringe TV interview at 1:15 down the street. Guaranteed everyone would be at the theater on time to practice our 15-minute load-in that we'd never done before. My three cars were ready, full to the brim — this is a 90-minute show, and it's not just a black box bare stage. I had a script for the lighting person and a CD with the sound cues. My makeup was on. But the flats weren't here.
See, the script specifies that a collage is put together on the back wall over the course of the show, and there is no back wall in the Open Fist — only a curtain. My contractor neighbor had agreed to have his carpenter build me some flats. Living next to a contractor if you're putting on a show is like living next to a doctor if you're a hypochondriac. I found "Flat building 101" on the internet (actual name of the site) and printed it out for him. He promised me the flats on Saturday. Then he promised me the flats on Monday by nine. Then by ten. Contractor time set in. I was maintaining a position of gratitude. It was 11:30, and he came over from the job site with the flats on his truck, stuck them on the roofs of the SUVs and left.
My husband is the one who knows how to tie things on cars – ex-boy scout and all. He was at work. I had his car. My daughters and I started tying knots. An hour later we were untying knots. Some of the ropes had broken. Some of us were sobbing. A guy who didn't speak English came by in a truck and got out to help us. He started tying knots and breaking ropes himself. I finally managed to ask him if he would drive the flat that wasn't tied down yet to the theater in his truck. He wanted $150. I offered $20. He was hoping to get a date with my younger daughter. We compromised – closer to $20 – and started driving to the theater at 1 pm at a snail's pace. Thank goodness there were three good talkers from my cast already there to do the interview without us. We finally got to the Open Fist, pulled our cars into the alley in time to do our 15-minute load-in, got the flats out of the truck and off the car and placed them on the stage where they promptly fell over.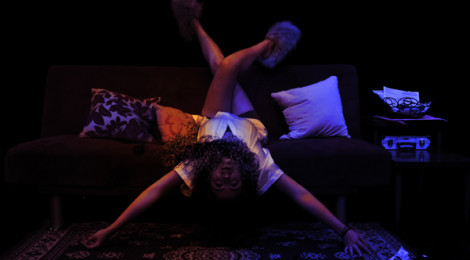 So how do you produce a show? It's not clear. It seems to me that I just keep moving forward like water, finding the space I can go through. If my actors can't rehearse, I read through the script. If I can't get my flats built, I create the sound cues. In the immortal words of Dory the fish, "Just keep swimming." And remember to laugh. And bring chocolate.
Jennifer Aniston Stole My Life, produced by Image & Likeness, LLC and Purple Turtle productions. At Open Fist Theatre, 6209 Santa Monica Blvd., Hollywood: Sun June 10 4:30 pm and Mon June 18 8 pm. At Hudson Guild Theatre, 6543 Santa Monica Blvd, Hollywood: Thur June 14 8 pm, Sat June 16 3 pm, Sun June 17 7 pm, Thur June 21 8 pm, Sat June 23 3 pm. Tickets: $12. www.hollywoodfringe.org/projects/794 and www.Plays411.net